Toshiba E-Studio 2020AC A3 20ppm Monochrome Multifunction Printer
Actual Stock Can Be Confirmed After Placing the Order.
AED10,717.29
AED10,206.94
Multifunctional A3 colour systems with features tailored to the needs and wishes of small- to medium-sized enterprises to support modern document workflows
Large and fully customisable user interface for easy to access all functions and increased efficiency
High-speed document output of up to 20 pages per minute
PRODUCT OVERVIEW
Print & Copy Speed:20 ppm (A4)
10 ppm (A3)Warm-up Time:~ 13.1 seconds from low power modePaper Size & Weight:Cassette: A5R-A3, 60-163 g/m²
Bypass: 100 x 148 mm-A3, 60-209 g/m²Paper Capacity:Cassette: 1x 250 sheets, Bypass: 1x 100 sheets
Max.: 2,900 sheetsInner Output Tray:550-sheet capacityAutomatic Duplex:A5R-A3, 60-163 g/m²Controller Type:Toshiba e-BRIDGE NextControl Panel:26 cm (10.1″) Multi-Touch Colour PanelMemory:Security SSD 128 GB**,
Standard: 4 GB RAMInterface:10Base-T/100Base-TX/1000Base-T,
High-Speed USB 2.0, WLAN* (IEEE802.11b/g/n), Bluetooth*, Wi-Fi Direct*Dimensions & Weight:575 x 586 x 662 mm (W x D x H), ~ 57.0 kgInitial Consumables:Drums, Developers, Waste Toner Box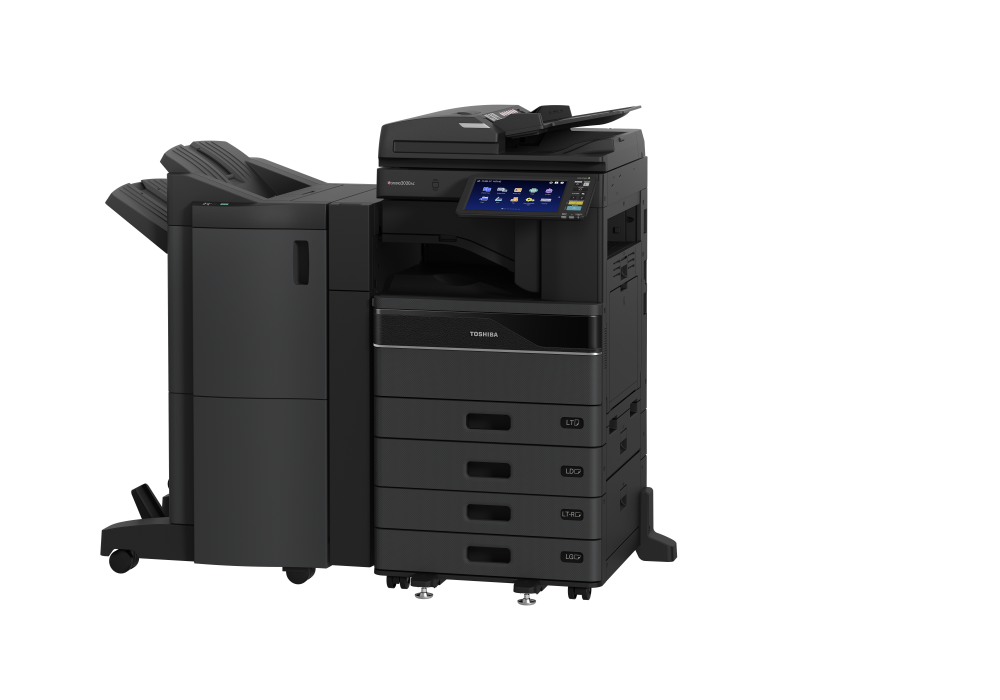 Resolution:600 x 600 dpi, 3 bit,
1,200 dpi x 1,200 dpi, 2 bit (1,200 dpi x 2,400 dpi) with PostScript driver onlyPage Description Languages:PCL5e, PCL5c, PCL6 (PCL XL), XPS, PDF, PS3 and JPEGSupported Systems:Windows 11/10/8.1, Windows Server 2022/2019/2016/2012 R2/2012 (64bit), Mac OS 10.12-12, Linux/Unix, Citrix, SAP, AS/400Network Protocols :TCP/IP (IPv4/IPv6), NetBios over TCP/IPColour Modes:Auto-Colour (ACS), Colour, Twin Colour, MonochromeColour Settings:ICC profile colour management, Brightness, Saturation, Contrast, Colour BalanceMobile Printing :e-BRIDGE Print & Capture, Mopria® Print Service, AirPrint®Print Functions:Universal Printer Driver, Driver Templates, Driver plug-ins*, Print from USB, Hold print, Tandem printing, E-mail direct printing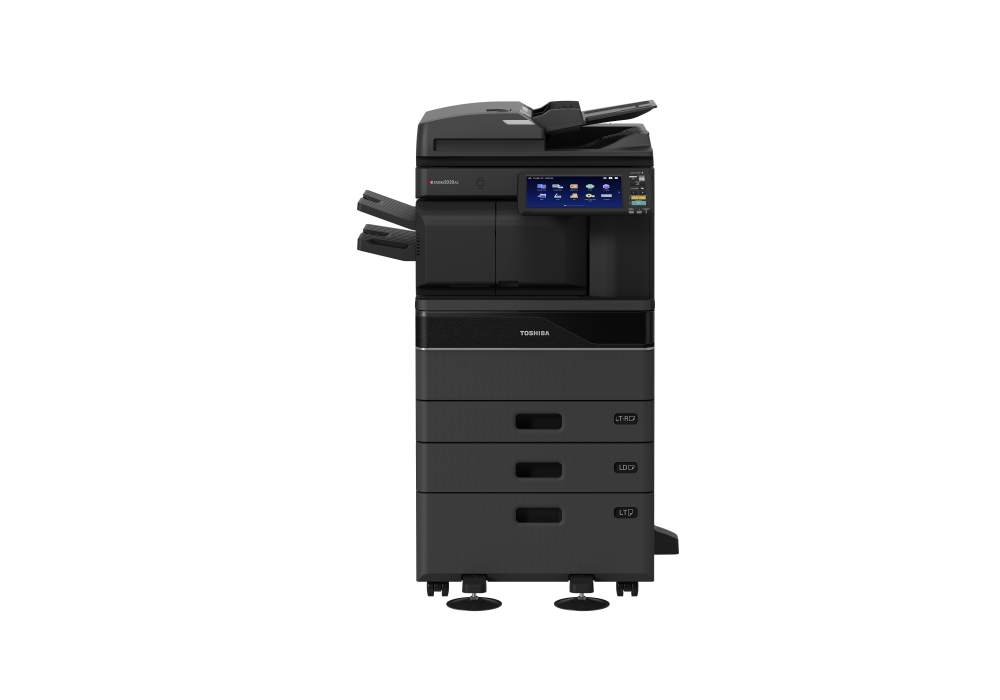 Resolution:Maximum 600 x 600 dpiScan Speed:Reversing Automatic Document Feeder*:
up to 73 ppm (300 dpi) in colour and monochromeScan Modes:Auto-Colour (ACS), Colour, Greyscale, MonochromeFile Formats:JPEG, Multi/Single Page TIFF/XPS/PDF, Secure PDF, Slim PDF, PDF/A , PDF/A-2, Searchable PDF (and other formats like DOCX, XLSX)* ***Scan Functions:WS Scan, Scan to USB, Scan to E-Mail, Scan to File (SMB, FTP, FTPS, Local), Meta Scan*, OCR scan, Scan to Box (e-Filing), WIA, TWAIN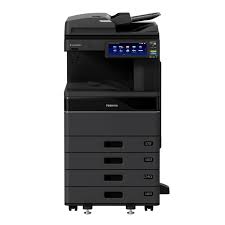 Resolution:Scan: 600 x 600 dpi
Print: 600 x 600 dpi, 5 bit,
equiv. 2,400 x 600 dpi with smoothing (monochrome only)First Print Output Time:Colour: ~ 9.5 seconds
Monochrome: ~ 7.1 secondsZoom:Platen*: 25-400%, RADF*: 25-200%Copy Modes:Text, Text/Photo, Photo, Printed Image, Map, Image SmoothingColour Modes:Auto-Colour (ACS), Full Colour, Twin Colour, Mono Colour, MonochromeColour Settings:Hue, Saturation, Colour Balance, RGB adjustment, 5 one-touch modesCopy Functions:Electronic Sort, Rotate Sort, ID Card Copy, Edge Erase, 2-in-1 / 4-in-1 mode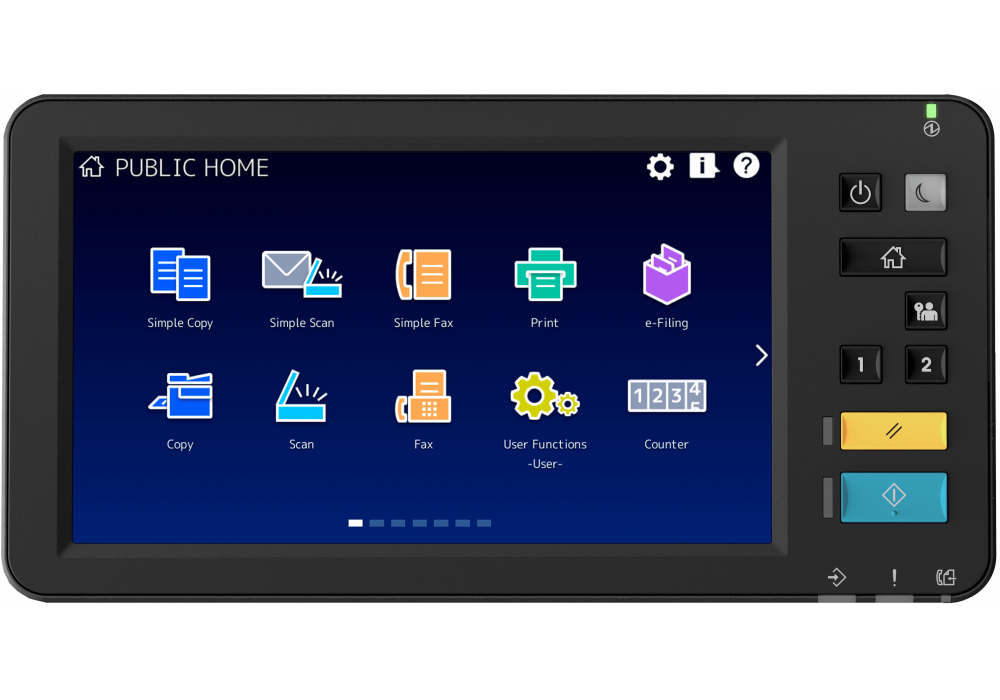 Communication:Super G3, G3 – (opt. 2nd line), Internet Fax T.37Transmission Speed:~ 3 seconds per pageCompression:JBIG, MMR, MR, MHFax Memory:1 GB Transmission/ReceptionNetwork-Fax:Driver for Windows 11/10/8.1, Windows Server 2022/2019/2016/Server 2012 R2/Server 2012 (64 bit)Incoming Fax Routing:To shared folders (SMB, FTP), E-Mail, e-Filing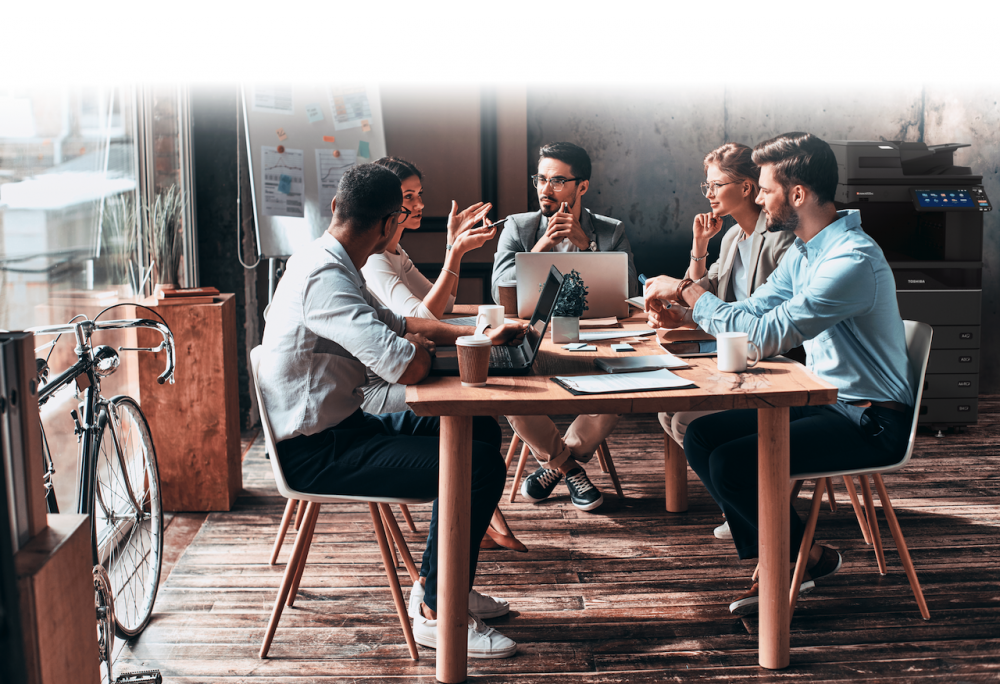 Device Management:TopAccess for remote administration and configurationSystem Features:e-Filing document server for secure storage, Document distribution and Print-on-Demand (1 public box, 200 user boxes), over 1.2 million one-touch templates for storage of personalised settings and workflows, Scan/Fax Preview, RIP-while-Print, e-BRIDGE Open Platform, Embedded Web Browser, Job Skip, PCL Barcode printing, e-BRIDGE Plus embedded appsAccounting & Security:Role Based Access, LDAP support, 1,000 department & 10,000 user codes, Card Reader*, Private print, Standard data encryption with Security SSD, Data Overwrite function when optional HDD is chosen, IP and MAC address filter, Port filter, Support of SSL and IPsec* protocols, IEEE802.1x support, CC certified (ISO/IEC15408) with HCD-PP v1.0*, Scan to Secure PDF, Pull-printing*
More Information

| | |
| --- | --- |
| Product Name | Toshiba E-Studio 2020AC A3 20ppm Monochrome Multifunction Printer |
| Print Speed (Mono) | up to 20 ppm |
| Wireless | Yes |
| Duplex | Yes |
| Fax | Yes |
| Paper Size | A3 |
| Copier | Yes |
| Color Printer | No |
| Dimension | 575 x 586 x 662 mm |
| Weight | 57.00 |
| Manufacturer | Toshiba |
| Country of Origin | Japan |
Shipping Worldwide

Yes, that's right, we do!
Compare Products
You have no items to compare.